Service School and Job Site Training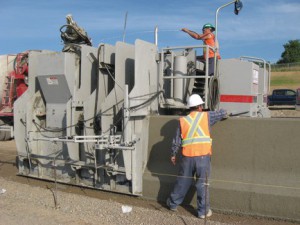 Helping you be as productive and successful as possible with your Power Curber or Power Paver equipment is very important to us.
When we deliver a new machine, we can arrange to be with you on your first job. Our technicians can go over things such as job-site setup, stringline, machine operation, and troubleshooting. After a few days, you'll have a great foundation to build upon.
Job Site Training
Based on the specialized nature of highway paving machines, Power Pavers customizes a training curriculum based on your individual needs. Contact our Product Support department to discuss your requirements.
At Power Curbers, we will also customize on-site training based on your specific needs and applications. Contact our Product Support department for more information.
Service School
For Power Curbers customers, we have service schools at the factory each winter when contractors can more easily be away for a few days. These sessions are a great way to work with factory specialists to gain experience and confidence in your company's ability to operate, maintain and repair your Power Curbers equipment. Also, sharing information and know-how with other contractors who own Power Curbers machines is always a great learning experience.
Power Curbers, Inc. reserves the right to cancel or combine classes with inadequate enrollment. We will make every effort to announce changes at least 1 month in advance.
 Factory 5700-C, 5700-SUPER-B and 5700-B Schools:
These 2-day classes are held in Power Curbers state-of-the-art training facility located at the plant in Salisbury, NC. The classroom-based schools will include sections on hydraulic and electrical system maintenance, troubleshooting, machine set-up, special applications, concrete mixes and other topics. Lunch will be served each day. Those attending will have the opportunity to meet and talk with Power Curbers associates from all areas including service, engineering, manufacturing, sales, and marketing. Courses will be limited to 20 students per session. Click here for dates, information and registration.
We look forward to seeing you in school!