W.O.E. Construction Inc. knows a lot about concrete. They've spent over 10 years doing concrete sawing, coring, sealing, stamping, staining, and more. But they regularly had customers ask them about slipforming barrier walls, something the crew at W.O.E. had never done.
Their philosophy on adding work and equipment is simple: match high-quality machines and high-quality people, and you can expect high-quality results.
"This should have been a more difficult and slower process with men and machine being new to each other," said Dwayne Vess, Operations Manager at W.O.E., who has added two 5700-C machines to their arsenal to meet the growing demand for slipforming.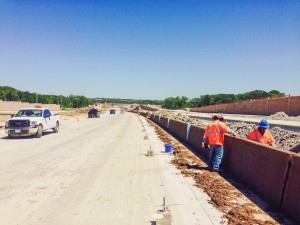 In one day, W.O.E.'s team poured nearly 3200 linear feet of barrier on one leg of the Chisolm Trail Parkway, a new 26-mile toll road connecting Cleburne, TX, to downtown Fort Worth, using a belt conveyor to deliver the colored concrete mix to both machines.
"Power Curbers can be proud all day of their product, and should be, but Power Curbers' people is where it's at," Vess said. "Sam Howard [Power Curbers' Regional Sales Manager] will stand flat-footed and sell you the machine and then lay down on his back on a greasy shop floor and teach your people all they will ever need to know about it. That's a rare quality."
"He worked with our guys to make sure they were able to take an unfamiliar piece of equipment and give our customers quality that exceeded expectations," he continued. "Power Curbers' people are darned good – from parts to tech support to the wizards in the mold shop."
W.O.E. Construction is a woman-owned and operated enterprise based in Grand Prairie, TX.
Click the pictures for a larger view