SF-2404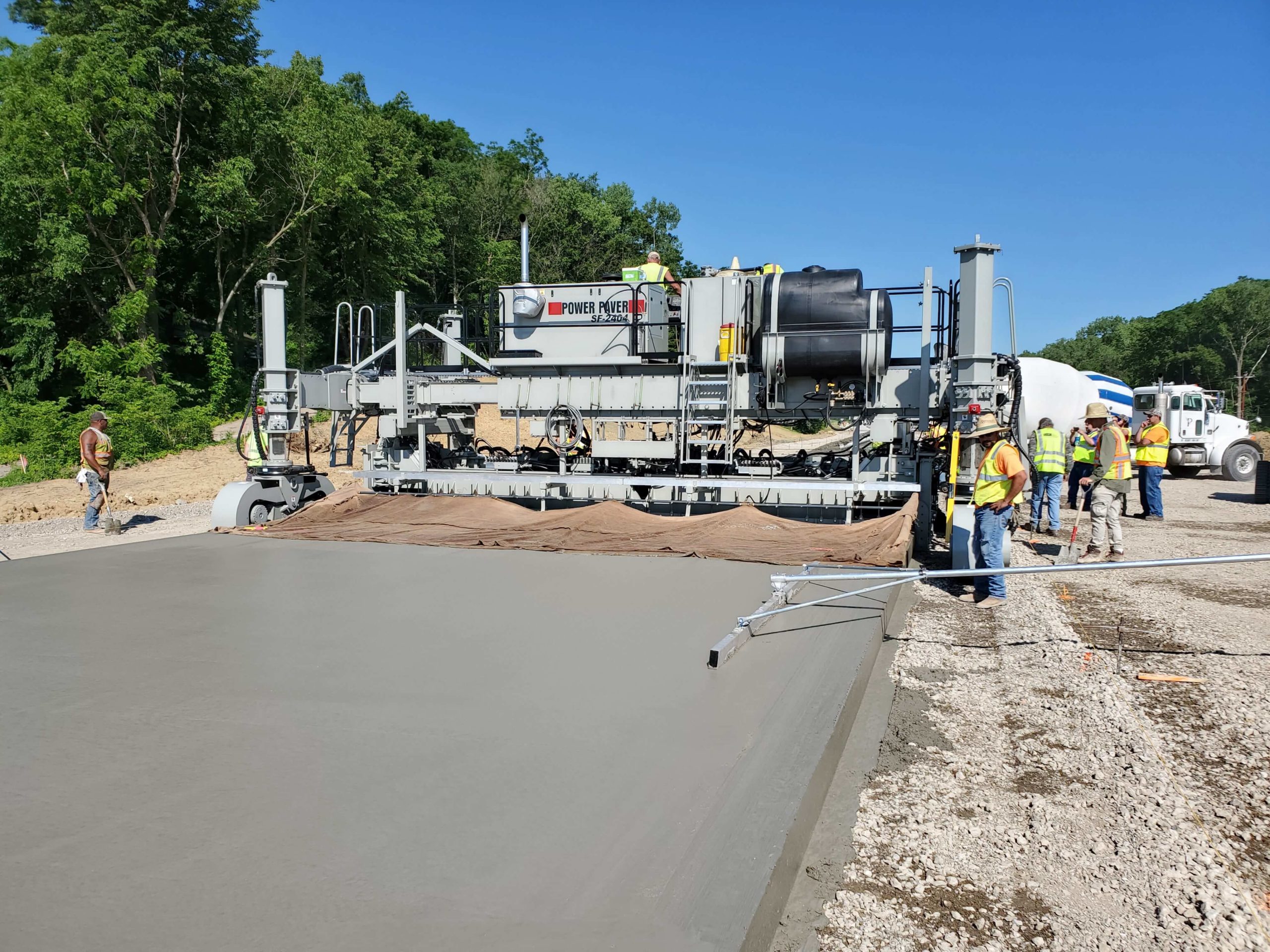 Features
Simplicity
The SF-2404 features a telescoping frame to allow simple width adjustment from 8 ft (2.5 m) to 20 ft (6 m) without having to add rigid frame extensions.
Simple Steer track positioning and a one-touch rotary knob to control steering make the SF-2404 easy to operate.
The 138:1 track drive gear ratio with two-speed H1 bent axis motor provides smooth paving at extremely low speeds as well as faster speeds for moving around the jobsite.
When you're done paving, it's a quick change from paving to transport mode. The operator can prep the machine for loading without ever having to leave the controls.
Visibility
The wraparound walkway offers complete visibility of the machine's operation. Three ladders and a rear walkway provide easy access to the machine for operation and maintenance.
Optional backup cameras can be displayed at the operator's console for additional visibility in tight spaces.
Productivity
The versatile SF-2404 can pave in conventional, inline left, and inline right modes and can meet the needs of any paving project up to 24 ft (7.5 m).
Vibrators can be controlled individually or globally from the operator's console. The optional Smart Vibe system monitors and records vibrator speeds.
The SF-2404 is stringless-ready from the factory and is validated for use with Leica, Topcon, and Trimble 3D/GPS control systems.
Options
Applications
Specifications
Slipform Paving
Profile Pan: 48 in (1.2 m) profile pan with power crown. Pan automatically adjusts for grade variations up to 24 in (60.9 cm) during paving. End pan overbuild compensates for edge slump.
Adjustments: Profile pan, tracks, and sideforms automatically adjust from running with both tracks on the ground to one or both tracks running on adjacent slab with no modification.
Sideforms: 32 in (81 cm) high sideforms for containing enough concrete during deep pours.
---
Engine
Type: Cummins QSB6.7 water-cooled, turbocharged 6.7 liter (409 cubic in) inline 6-cylinder diesel engine. 12-volt electrical system with 130 amp alternator.
Power: 220 HP (165 kW) @ 2200 RPM
---
Service Capacities
Fuel Tank: 96 gal (364 L)
Hydraulic Oil Tank: 213 gal (806 L)
Engine Oil: 8 gal (30 L)
Engine Coolant: 6 gal (23 L)
Auxiliary Water Supply: 250 gal (946 L)
---
Spreader-Auger
Auger: 16 in (40.6 cm) diameter split reversible auger with hard-surfaced flighting
Drive: Heavy-duty 29.9 in3 (490 cc) hydraulic motors with 3.27 to 1 reduction for power to move low-slump concrete at widths over 7.5 m
---
Vibration
Vibrators: Twelve 2.25 in (5.7 cm) diameter head hydraulic angled vibrators with individual pressure compensated valves
Options: Up to 24 vibrators. Smart Vibe system for monitoring and recording vibrator speed.
---
Track Drive System
Type: Four heavy-duty 71 in (1805 mm) track systems
Tracks: 12 in (305 mm) wide triple grouser steel tracks
Speed: Travel 0-48 ft/min (0-14.5 m/min). Paving 0-16 ft/min (0-5 m/min)
Options: Bolt-on 12 in (30.5 cm) wide, 1 in (2.5 cm) thick polyurethane pads
---
Paving Dimensions
Standard Paving Depth: 0-16.0 in (0-41 cm)
Standard Paving Width: 8.0-20.0 ft (2.5-6 m)
Optional Paving Width: To 24 ft (7.5 m)
---
Transport Dimensions
Height: 10.5 ft (3.2 m)
Width: 11.8 ft (3.6 m) with paving kit, 10 ft (3 m) without paving kit
Length (without paving kit): 29.7 ft (9.05 m)
---
Operational Specs
Height: 11.5 ft (3.51 m) plus paving depth
Width: 58 in (147 cm) wider than paving width
Length: 14.5 ft (5.02 m)
Weight: 65,000 lbs (29,484 kg) to 78,000 lbs (35,380 kg) with mold
---
Optional Equipment
Curb Mold Inserts: Can be added on one or both sides of profile pan
Power Wash: Hydraulically driven 4 gal/min (15.1 L/min) pump delivers 2,000 psi for cleanup and utility use
Paving Options: Center or side bar inserters, float pan, final finisher
Light Kit: LED work lights
---