THE POWER PAVER SF-3404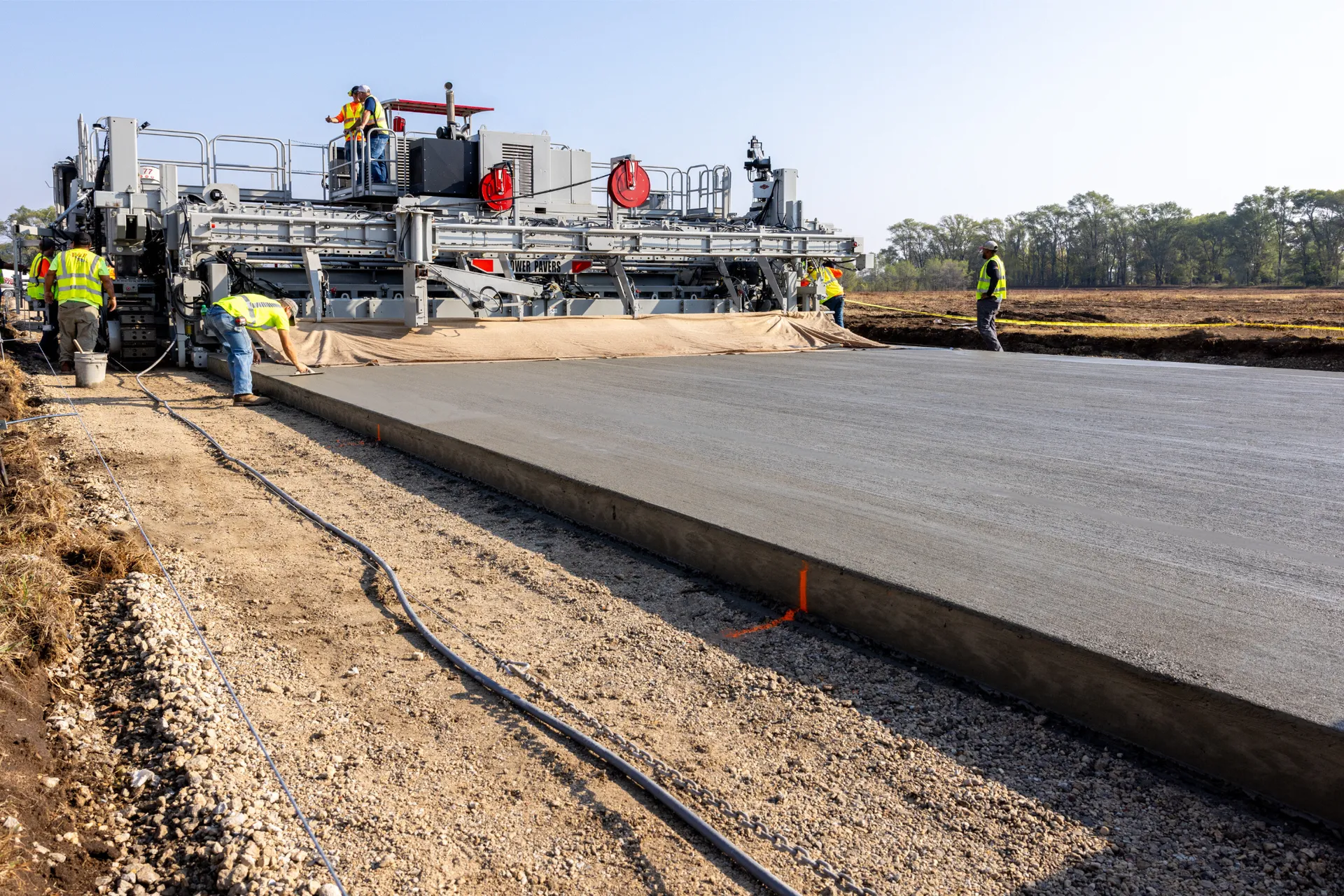 Overview:
The Power Paver SF-3404 is the newest, most innovative full-width slipform paver on the market. Built with decades of knowledge and technological advancements, the SF-3404 delivers the smoothest, most precise concrete paving possible. The new 4-track paver is operator-centric, fully featured, and available with or without our compact Dowel Bar Inserter (DBI).
Request Quote
View Brochure
Features
The SF-3404 is built with decades of knowledge and technological advancements, delivering contractors the smoothest ride possible, saving valuable time, and providing complete visibility around the machine. It paves a maximum of 40 ft. (12 m) and features telescoping endpans for 2 ft. (61 cm) of width flexibility on each end. In addition, a heavy-duty plow and rigid paving pans make the SF-3404 highly reliable and efficient.
Advanced Operation
Featuring our familiar SlipSmart Control Solution the SF-3404 is simple, accurate, 3D-ready, and provides contractors with a new level of ultra-smooth, responsive precision. Slew drive or cylinder steering, swing legs, and telescopic width adjustments make setup quick, flexible, and straightforward.
The SF-3404 also features:
Machine controls that are scalable to the machine's speed. The tamper, OCB, finisher, and misters automatically adjust.
TrackSmart crawler propulsion which uses closed-loop control for positive traction and fine speed control at slow speeds.
Full onboard diagnostics. No laptop required.
Vibration isolation on the operator's platform for comfort.
Fully telescoping frame. Pave 12 to 24 ft. (3.6-7.3 m) using the dual-sided telescopic frame and sideforms, with no extensions required.
Superior Visibility
The control panel and operator's platform are directly above the paving pan, which means the spread auger/plow and entire grout box are in plain sight for maximum head height control. Operators have complete visibility from the platform, including the grout box, dowel bar inserter (DBI), oscillating corrective beam (OCB), and final slab.
The DBI is mounted behind the operator's platform, offering direct bar loading and placement visibility. The wraparound walkway offers access to both engine compartments for easy maintenance.
Exceptional Ride Quality
The SF-3404's Oscillating Correctional Beam (OCB) is 30″ (76 cm) tall and 24″ (61 cm) in finishing length from front to back. It is the largest in the industry for the smoothest ride possible.
The machine's optional Dowel Bar Inserter (DBI) features a hydraulic floating floor that minimizes surface disturbance and allows you to pave a wet or dry slump.
Thoughtful Design
Fewer parts for fewer problems, quick width changes, and ease of maintenance
Common bolt sizes and color-coded wiring throughout the machine
Dowel Bar Insertion
Our innovative, high-precision dowel bar inserter (DBI) maintains the integrity of your initial slab and reduces the amount of displaced concrete from the bar insertion process. Designed with efficiency and precision in mind, our DBI is engineered to save you time and money.
Compact Design
The DBI fits between the mold and rear posts, requiring no frame extensions. Simply back the tractor over the DBI to attach it. The unit is self-standing with optional loading legs and transports in a single assembly with the Oscillating Corrective Beam (OCB), OCB wiper, and final finisher.
Hydraulic Floating Floor
Our unique floating floor design contains and redirects vibration to heal the slab surface and improve concrete reconsolidation. Floor pressure is electronically adjustable from the operator console, and pressure is reduced when the floor is recalled to avoid disturbing the slab surface.
Fully-Controlled
Each time the DBI carriage runs, it recalibrates with electronic transducer-controlled recall cylinders. This ensures the DBI floor is always positioned correctly, preventing wandering.
Accurate Crowning
Our DBI is split, allowing the DBI to maintain a crown. This increases the accuracy of bar placement and reduces the amount of displaced concrete when running DBI with a crown. On the SF-3404, bars are held and guided into the slab to prevent rollaways or shifting when crowning.
Simple Design, Hassle-Free Operation
The DBI incorporates an easy-to-load shuttle cart for simple, accurate bar placement. No jammed bars, and no concrete stuck in the feeder.
Other DBI Features
Vibrator Preheater: rather than waiting for the tractor to warm up, the DBI has heated vibrators with continuous temperature monitoring to ensure they run at a consistent temperature and speed.
Highly configurable insertion parameters for dwell time, spacing, and vibration
On-board diagnostic screens at the DBI controls and operator's platform. No laptop required.
Joint sensor for pouring next to an existing slab
Tie-bar collision avoidance
Separate DBI telematics
Paint Sprayer
Options
3D/Stringless Compatibility Package
Oscillating Corrective Beam (OCB)
Our OCB is 30″ (76 cm) tall and 24″ (61 cm) long finishing length Pafrom front to back. It is the largest OCB in the industry for the smoothest ride possible.
Smart Vibrator Package
Allows monitoring and more precise control of individual vibrator frequencies.
Cruise Control Valves
Allows for maintaining accurate frequency settings.
Telescopic Sideform Ends
2 ft. (61 cm) per side
Center Tie Bar Inserter (CTBI)
Side Tie Bar Inserter (STBI)
Dowel Crane
Misting Kits
Final Finisher
Floating Paver Pan
Belt Finisher
Specifications
Slipform Paving
Maximum Paving Width: 40 ft (12m)
Hydraulic Edge Overbuild
Split Sideforms, Swing Out and Batter Control
Crown: 2 for Paver | 1 for DBI
Telescopic Paver Endpan: 2 ft (61 cm) per side
Front Congifutations:
Spread Plow and Strikeoff (required for DBI)
Spread Auger and Strikeoff
Open-Front Mold
Grout Auger
Tamper Bar
---
Engine
Type: Cummins B6.7 diesel engine, Stage 5
Power: 310 HP (228kW)
---
Service Capacities
Fuel (Tractor): 148 gallons (673 L) diesel
DEF (Tractor): 26.6 gallons (121 L), diesel exhaust fluid (DEF)
Fuel (DBI): 62 gallons (282 L) ultra-low sulfur diesel (ULSD)
Hydraulic Oil (Tractor): 300 gal (1,364 L)
Hydraulic Oil (DBI): 80 gal (363.7 L)
Engine Oil (Tractor): 20.8 quarts (19.7 L)
Pump Gearbox: 5.25 quarts (4.97 L)
Engine Coolant: 8.8 gal (40 L)
---
Vibration
Vibrator Circuits: 36 variable-speed hydraulic vibrator circuits with independent and proportional master control
Optional cruise control valves for maintaining accurate frequency settings
Optional Minnich AutoVibe monitoring
---
Controls
Operator's Controls: SlipSmart Control Solution. 24-volt DC
ConnectSmart: Telematics solution
TrackSmart: Closed-loop crawler propulsion
Optional 3D/GPS stringless control system integration from Leica, Topcon, & Trimble
---
Crawlers & Elevation Posts
Type: Four hydraulically-powered crawler tracks
Steering: Slew drives or cylinder-steer
Swing Legs
Tracks: 16 in (41 cm) wide x 96 in (244 cm) long
Speed: 120 ft/min (37 m/min)
Post Extension: 38 in (97cm) hydraulic | 18 in (46 cm) mechanical
Polyurethane pads are available for crawlers instead of steel tracks
---
Compact DBI
Maximum Insertion Width: 40 ft (12 m)
Engine Type: Hatz 4H50ticd diesel, Stage 5
Engine Power: 74 HP (54.4 kW)
Optional Dowel Crane
Optional Hydraulic Loading Legs
---
Water System
Washer: High-pressure (3,000 psi) and low-pressure (80 psi) systems available.
Tank Capacity: 150 gal (567.8 L)
Optional additional tanks can be mounted to any post
Optional burlap, OCB misting kits
---
Other Features
Light Kit: 2 LED work lights per post
Canopy Top: Hinged canopy top can be easily raised for machine operation and folded for transport
Safety Equipment: Emergency stop and horn buttons on each post and at multiple operator positions
Vibration-Isolated Operator Platform
Large Toolbox
Optional Balloon Lights
---
Net Weight
Tractor: 87,000 lbs (39,463 kg)
Mold with CTBI: 58,000 lbs  (26,308 kg)
DBI with STBI and Crane: 65,000 lbs (29,484 kg)
---
Transport Dimensions
Tractor Minimum Length: 35 ft (10.67 m)
Tractor Height: 8.17 ft (2.49 m)
Tractor Width: 7.33 ft (2.24 m)
DBI Minimum Length: 17.01 ft (5.21 m)
DBI Height: 8.17 ft (2.49 m)
DBI Width: 12 ft (3.66 m)
---