3D/Stringless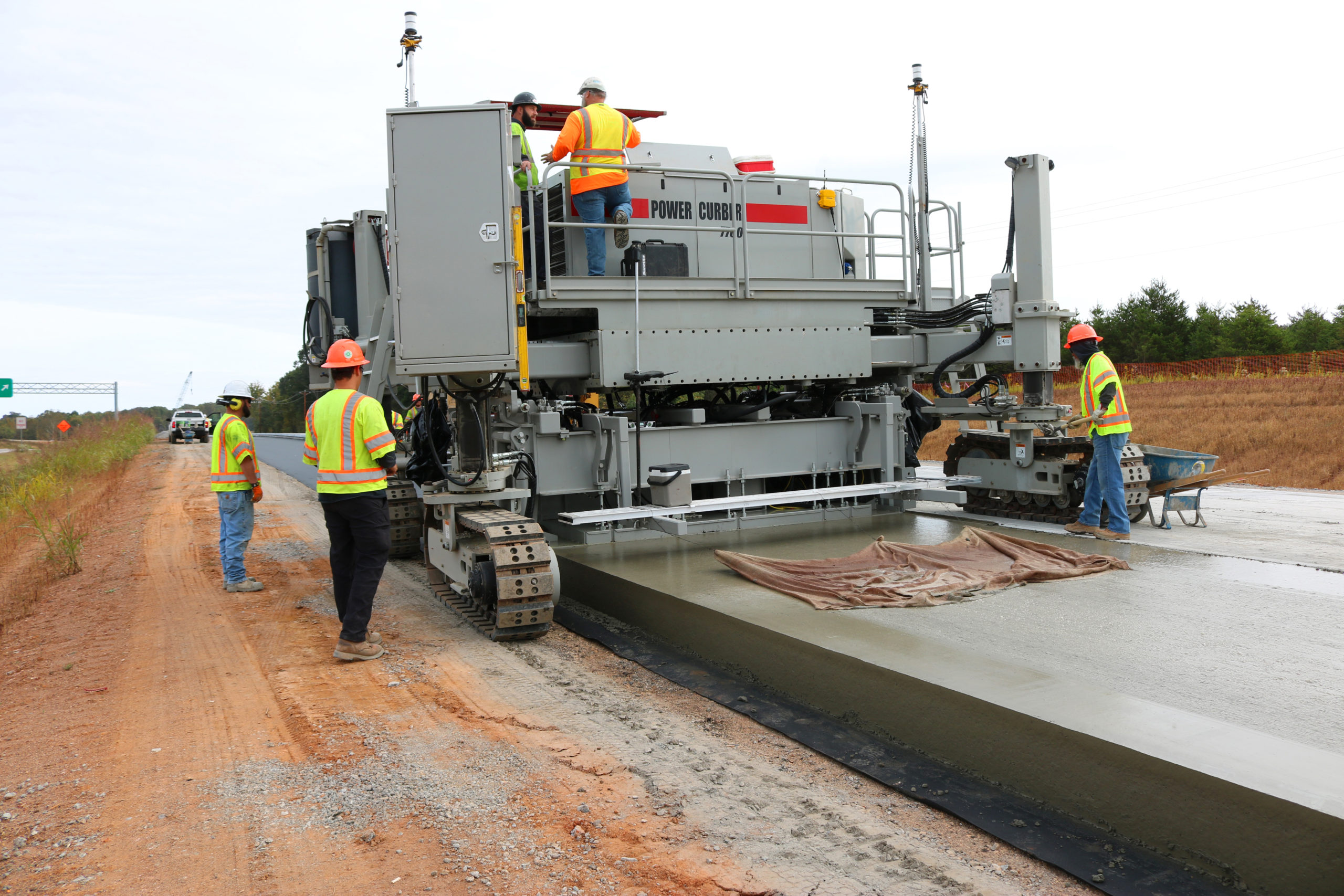 Overview:
With a 3D or stringless system, the physical stringline is replaced by a
virtual stringline using a 3D model and positioning equipment. The positioning equipment compares the current, physical location of the mold to the 3D model and makes any necessary adjustments to the machine's
steering and elevation to keep it on line.
Download Brochure
Advantages
Eliminate stringline crew setup prior to and after each job.
No more need to stock, maintain or transport stringline components.
You are unrestricted by the amount of stringline set up on site. You may jump from one area to
another as desired.
Physical stringline is not in place so navigating the site and finishing the concrete is easier.
Site preparation and machine accuracy can be verified against the model at any time before,
during, or after the pour.
Machine Requirements
Power Curbers
All 7700s are 3D ready*
5700 Series machines are 3D ready* if:

They are 2007 or newer AND they have a network control system AND they have all-crawler steering.
Power Pavers
All SF-1700s with electronic sensors are 3D ready*
All SF-2700s with electronic sensors are 3D ready*
All SF-2404s are 3D ready*
The 3D kit from Power Curbers and Power Pavers includes masts, wiring, and power conditioner.
Considerations
Any 3D-ready Power Curber or Power Paver is able to switch from stringless to stringline operation with a toggle in the control system.
There are up-front costs with a stringless system, but the long-term savings are significant.
*Every model will require a 3D kit which can be installed at the factory or retrofit in the field.
Suppliers
Topcon
We are Topcon. We collaborate, create and distribute disruptive technologies that help businesses flourish through improved processes, machine automation and data services.
We design and manufacture productivity tools for building a better future. Whether cultivating the earth or building upon it, Topcon brings innovation in workflow automation and seamless connectivity of data to infrastructure and agriculture industries with a focus on developing a sustainable tomorrow.
Stringless paving with millimeter GPS is exclusive to Topcon. Whether you are pouring curb, paving runways or mainline, this technology will increase the precision and efficiency of your curber, concrete pavers and other heavy equipment. It leverages GNSS for horizontal accuracy and a rotating laser for vertical accuracy. In fact, the same laser can simultaneously control multiple machines and provide elevation feedback to grade checkers.
Leica Geosystems
Leica Geosystems, part of Hexagon, offers 3D machine control solutions for any heavy construction application on your construction site. With more than 25-years of experience in 3D paving solutions, Leica Geosystems has proven expertise in a number of installed and active systems throughout the world.
The Leica iCON pave for concrete paving supports all applications, such as slipform paving, curb and gutter, trimmer, and placer spreader. Our 200 years of passion for surveying demonstrate our ability to replace stringlines with accurate total stations and GNSS sensors tracking machines' positions and elevations. By connecting the field and the office with the Leica ConX, cloud-based collaboration tool, we have brought the paving solution to a next level of digitalization.
Supporting Power Curbers & Power Pavers' machines, Leica Geosystems ensures that the 3D paving solution meets your requirements and a trouble-free operation.
Trimble
Once you start paving concrete with the Trimble PCS900 Paving Control System, you'll wonder how you could ever use stringline. Trucks can pull up and dump without driving around string. You'll stop less often, grind fewer problems and blow away your target IRI number.
PCS900 uses automatic steering and 6-way control of the pan to keep the paver exactly on the target alignment, design, and slope. The result is a more consistent concrete surface with better rideability and a bigger bonus – without the time and cost of string.
Videos
Basics of 3D/Stringless Machine Controls Power Curber 5700-C
5700-C Pouring Sidewalk – 3D/Stringless
5700-C Pouring Curb and Gutter – 3D/Stringless
Going Stringless – 5700-C with 3D/Stringless Controls
---