Legacy Models
5700-C Expands Capabilities
5700-C: Manufactured from 2007 through the end of 2019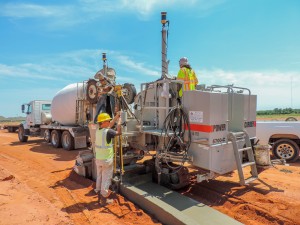 Smart Amp Controls
Standard Smart Amps offer the operator more accuracy and greater feel when setting sensitivity, without complexity. The system performs self-diagnostics, automatically shuts off sensors if they leave the stringline, and has an easy-to-read digital display.
Network Controls & All-Crawler Steering
The 5700-C's optional controller, the fully networked digital control system, gives operators the added benefits of an advanced graphic display and auto-slope control when transitioning from in-flow to out-flow. They also feature cruise control, enable all-crawler steering, and integration with 3D/stringless control systems.
3D/Stringless Pouring
Designed with the knowledge that 3D/stringless control systems would be increasingly in demand, the 5700-C can interface with equipment from Topcon, Leica, and Trimble to use GPS signals and lasers to steer the machine without stringline.
MAX Package
Built on the same platform as a 5700-C, the 5700-C-MAX has a heavier frame, all-crawler steering, network controls, larger crawlers with a slower gear ratio, and a higher-capacity hydraulic system. These upgrades expand the maximum offset paving width from 7′ (2m) to 8′ (2.5m), the maximum center-pour width from 10′ (3m) to 12′ (3.65m), and the maximum barrier height from 5′ (1.5m) to 8′ (2.5m).
Request a Quote
5700-SUPER-B Takes Productivity to a Higher Level
5700-SUPER-B: Manufactured from 2004 through the end of 2006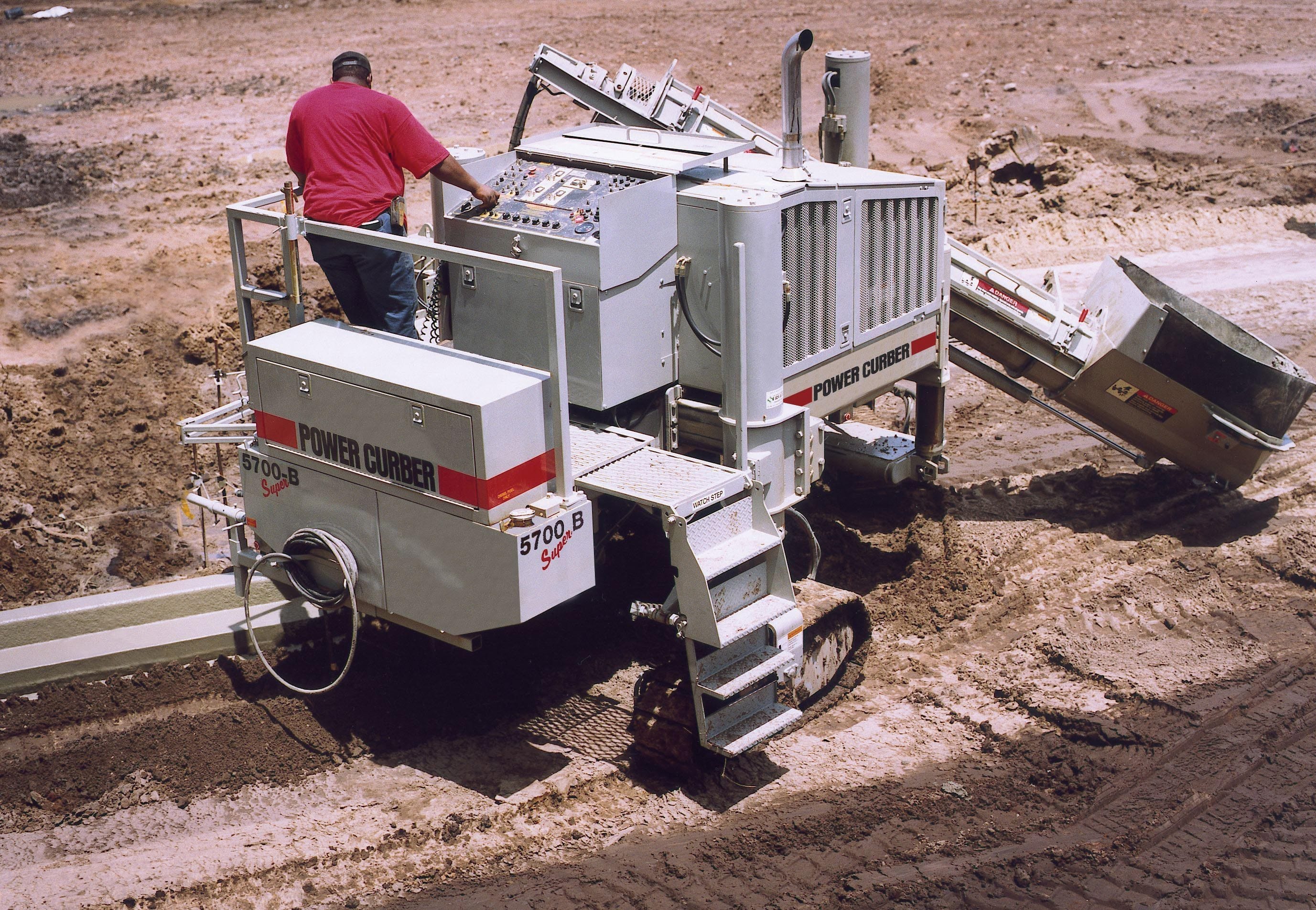 More Horsepower – 50% More
The 133 HP Deutz diesel engine increases productivity to trim more and pour more.
More Visibility
Raising the operator's platform and console further increased visibility of the auger and chute. Visibility was a favored feature of the original 5700 B. Operators were able to see what they were pouring without having to wait 10′ (3m) to see it or, have a crew member there to describe what was happening. Now, you have more visibility than ever before. A two-step extension was added for easy access to the operator's platform for higher machine configurations.
Ergonomic Console
The redesigned console results in less motion for the operator.
Less Heat
The work area is cooler, with hydraulic and engine coolant radiators relocated and mounted externally so that hot air circulates away from the operator's platform.
Easier Service
Filters for fuel, engine oil, air, and the high-pressure servo are located at eye level and in easy-to-reach positions-making service easier and faster. Servicing the radiator is easier since the radiator is mounted externally instead of being an integral part of the engine. Hydraulics are compact and centrally located at the correct height for easy servicing and less maintenance. The doors are removable. The battery pivots out for easy servicing.
Rotary Controls for Fractional Changes
Rotary controls allow fractional changes in-ground or conveyor speeds, resulting in a smooth, consistent curb.
Direct-Drive Conveyor
The auger conveyor moves concrete faster and mixes it better than a belt. Now, the advanced hydrostatic direct-drive conveyor with high torque reduces maintenance.
Increased Crawler Torque
Crawlers have a heavier frame and increased torque for easier loading, pouring on inclines, or working in soft grade conditions. Increasing or decreasing tension on the crawler track chain is also easier with a hydraulic adjuster.
Request a Quote
5700-B Revolutionizes Curb Machines with the Auger Conveyor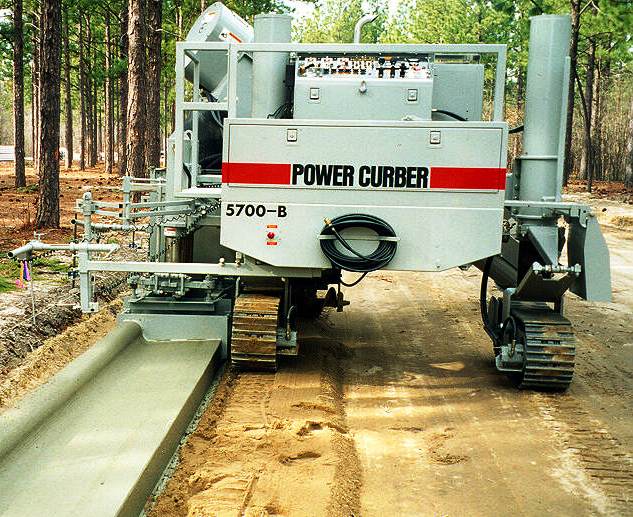 The 5700-B was manufactured from 1994 through the end of 2003.
Fast, Reliable, and Less Work
Machine owners report that they were able to greatly increase their productivity with the 5700-B. As compared to the previous model, it has more weight and horsepower, taller lift posts, larger and heavier-duty crawlers, and increased speed. Users say things like they've "tripled a normal day's production", or that it has allowed them "to go from having 7 men behind the machine to 4 men", and called the machine "very smart and very quick".
Auger Conveyor
The 5700-B introduced the cast auger conveyor as a replacement to the conventional belt conveyor. It increased mixing power, sped up pouring, and eliminated many of the problems associated with belts. It pivots on its mount and hydraulically tilts and slides so you're able to position it for many different job-site arrangements.
Hydraulic Mold Offset
At obstructions in the curb such as catch basins, hand tie-ins have been reduced from 10-15' (3-4.5m) down to about 2' (.6m), and you don't have to come off the stringline. This increases your overall speed, production, and quality as well as reducing labor. It also provides flexibility for doing reconstruction work.
More Capabilities
Curb and Gutter, Tight Radius Work, Sidewalk up to 6' (183cm) in the offset position, Monolithic curb, gutter, and sidewalk, Barrier/Parapet up to 48" (122cm) tall, Center Pour paving paths up to 8' (2.5m) wide for golf carts, bicycles, or walking, Irrigation Ditches, Stadium Risers, etc. To a certain extent, the machine is only limited by your imagination.
Quick Connect Mold Mounting System
A very popular option, quick connect allows molds to be changed in a few minutes, and with very limited manual labor.
Request a Quote