Parts to Keep on Hand. Avoid Downtime!
Here's advice from our regional service managers. They've seen it all, and this is what they recommend:
Curly Cord

If you're pouring down the stringline and you notice the rear grade is not working or the front grade is not following grade, replace the cord first. Many times, the problem is caused by a bad cord.
Sensor

If the cord is good, check the Sensor next. Put a new sensor on and see if it eliminates the problem.
Amplifier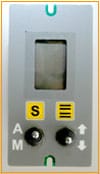 If the cord and sensor are good, the problem might be the Amplifier. Replacing the amplifier is your next step. Ninety percent of the time, the problem is either the cord, the sensor, or the amplifier. Having these spare parts on hand avoids costly downtime.
Grade & Steering Wand Assembly

There is always a possibility of breakage. It can cost you a day's work and loss of concrete if you don't have a spare.
Fiberglass Flat Bar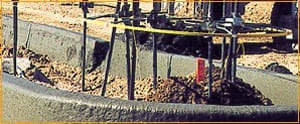 Pouring tight radius? Reduce the number of stakes by 50 to 70% with Fiberglass Flat Bar and the related clips and connections.
Filter Kit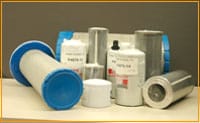 Water or trash in your fuel line can cause the engine to misfire. Also, you're ready for routine maintenance by keeping a spare filter kit on hand.
Hopper Gasket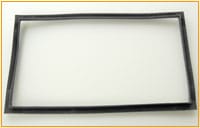 Changing molds can damage a hopper gasket and cause it to leak. A missing or damaged hopper gasket increases clean-up time. You also lose the "cream" necessary for the curb to "slick off" smoothly, causing extra work for your crew.
Kleen Kote
Before you pour, spray your machine with Kleen Kote to minimize clean-up at day's end. Kleen Kote has been factory-tested and is popular with customers. It's the best cleaning agent we've found. It's an environmentally-friendly water-based clear liquid that won't affect paint, rubber or glass. It is sold in gallon containers that you dilute to make 12 gallons. Your cost: Less than $4 per gallon.
Kleen Krete
For old concrete build-up, apply Kleen Krete full-strength. It's been factory-tested and comes with our recommendation. It is sold in 5-gallon containers.
Vibrator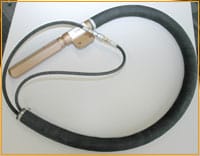 If you have a vibrator go out, it can shut you down on the job or cause you to lose concrete. Changing out a vibrator in the middle of a pour is a life-saver, so be sure to keep a spare in your toolbox.
1-Foot Trimmer Extension
Improve the quality of your curb and gutter by adding a 1-foot trimmer extension that allows the left rear crawler to run on trimmed sub-grade. The wind row of excess dirt will now be placed between the rear crawlers. Better quality curb is achieved by running on more consistent grade. It really makes a difference.