TC-2700 Texture/Curing Machine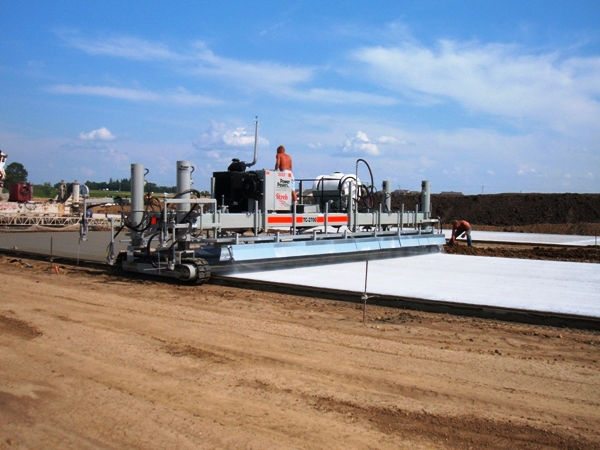 Overview:
Power Curbers' TC-2700 puts the finishing touch on the paved section you've just laid down. Simple & fast, the TC-2700 requires only a single operator. Read more about the TC-2700 below!
Features
Diesel Engine
Gross horsepower @ 2,600 rpm, 85 hp (63.38 kw) Cummins BT3.3-85hp diesel engine, Four stroke, 4 cylinders, 3.7" (95mm) bore, 4.5" (115mm) stroke, 199 cu. in. (3.26 liters) displacement.
Drive System
Operating range from 0-100 fpm (0-30.5mpm).
Propulsion is provided by two 12" (30.48cm) wide by 8'-6" (259.08cm) polyurethane pad track systems.
Mainframe
Rigid frame construction. Unit is widened by adding additional sections.
Hydraulic Power
Engine driven direct drive, pressure compensated, variable volume pump provides power flow to all functions.
Operator Controls
Throttle level, master start-stop switch, steering selector, texture head speed control, texture head elevation control, curing spray pump control, spray bar on-off control.
Automatic Control System
Automatic steering through left or right-hand side mounted proportional hydraulic sensors controlled by preset string-line or form-line.
Texturing Head
5'(1.52m) or 10'(3.05m) transverse broom is speed controlled and will conform to all crown configurations. The broom has auto kick-up at the end of travel. Capable of texturing slabs up to 24" (60.96cm) in depth.
Curing Spray Bar
Skirted spray bar with no drip stainless steel nozzles spaced 12" (30.48cm) on center. Spray bar adjustable in height to accommodate 24" (60.96cm) slabs. Reservoir includes lines and valves to load or off-load.
Specifications
Operating Dimensions
Length with burlap drag: 16'-3.5" (4.97m)
Length without burlap drag: 8'-6" (2.59m)
Width: 16' (4.88m) to 32' (9.75m)
Slab width: 12' (3.66m) to 27' (8.23m)
---
Transportation Dimensions
Length: 16' (4.88m) to 32' (9.75m)
Width: 8'-6" (2.59m)
Height: 10'-4" (3.15m)
Weight: 11,500 lbs. (5,216.2 kg)
Weight at 27' (8.23m): 15,000 lbs. (6,803.7 kg)Weight will vary depending on options and widths.
---
Service Refill Capacities
Fuel Tank: 35 gal (132.48 L)
Engine Oil: 2.8 gal (10.6 L)
Hydraulic Oil: 70 gal (264.97 L)
Spray System Reservoir: 150 gal (567.79 L)
---
Optional Equipment
5'(1.52m) Texture broom extension for 10'(3.05m) broom

Reverse auto steering

Front burlap drag (hydraulically lifted)

Hydraulic elevation control

Includes four hydraulically operated leg cylinders, with hydraulic proportional elevation control sensors

Extension kit to 32'(9.75m)

Pressure power wash unit

Longitudinal tining option
---