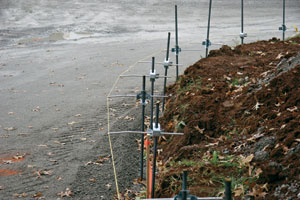 Stringline & Accessories
For stringline products and accessories to use with your Power Curber or Power Paver, we trust Anvil American. For over two decades, Anvil has ensured job-site success with their industry-leading stringline solutions.
Power Curbers is an authorized dealer for Anvil American stringline products.
The Anvil American Product Line
Anvil American's stringline & accessories are used to guide curb machines and paving equipment accurately on the jobsite. The industry-leader in guidance systems carries a variety of stringline and accessories, including:
Stringline
Clamps (steel, spring, box)
Rods
Stakes
And more!
To learn more about Anvil American, Download Brochure
A tradition of excellence
Anvil takes pride in helping customers create the safest, most accurate final product. Their decades of commitment to quality and innovation are unsurpassed, and we are proud to recommend that standard of excellence to our customers as well.