5700-D – The One-Machine Solution
Power Curbers has been the industry leader in the production of slipform concrete curb machines for more than 65 years. Our 5700-D is the number one-selling Curb & Gutter Machine in the world, for many reasons:
Compact profile can fit in tight spots such as parking lot corners and cul-de-sacs
Front-track steering that simplifies turns
Low-center-of-gravity design that's stable even on rough terrain
Auger Conveyor system that moves concrete faster and can hold up to a cubic yard of concrete at a time for radius & cul-de-sac work
Dual-side pouring option
New SlipSmart Control System
Control panel improvements including "all up" jog switch, master vibrator scale knob, weatherproof switches, trimmer "on" light, cup holders and more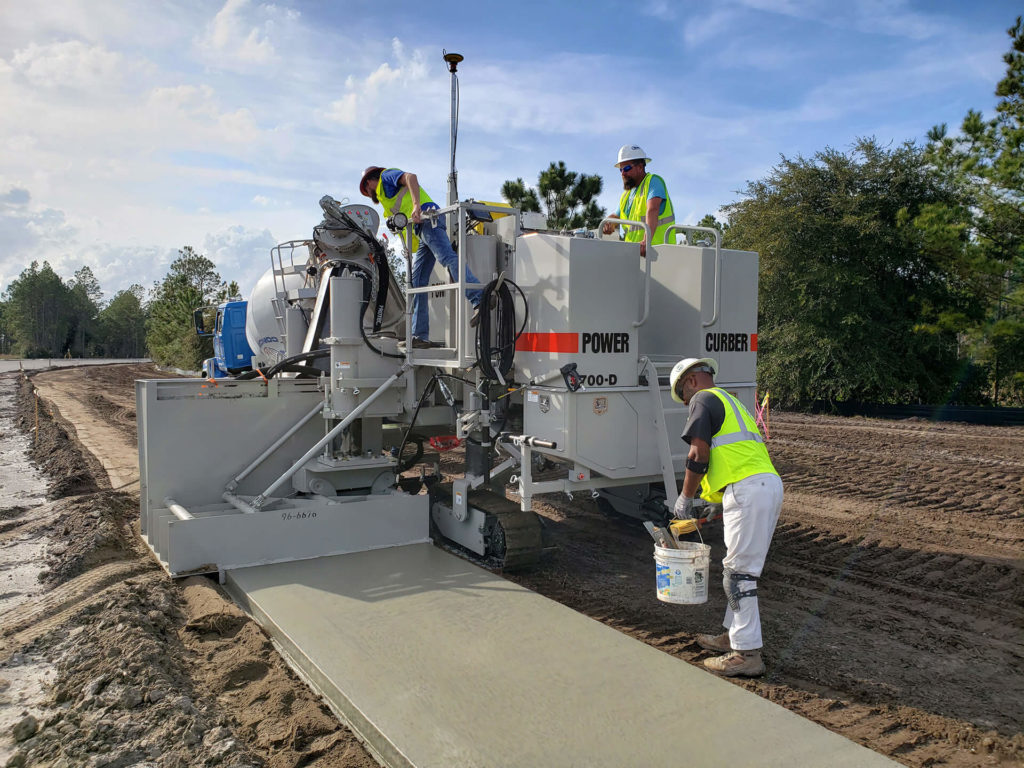 Making Concrete Curb Machines Since 1953
Legacy Models
Since introducing the 5700 Series more than 30 years ago, Power Curbers has offered several models of curb machines:
Shop Pre-Owned Concrete Curb Machines
Power Curbers offers a variety of pre-owned concrete curb machines for sale, including the 5700-C and 5700-SUPER-B.
Shop Pre-Owned Machines
What is a Concrete Curb Machine?
Concrete Curb Machines are industrial scale pieces of equipment that are designed to pour concrete in special shapes to quickly create concrete objects such as curbs, gutters, barrier walls, sidewalks, ditches and more.
Power Curbers is the industry leader in slipform concrete curb and gutter machines. Our compact, nimble machines get your curbing jobs done faster and more efficiently – even in tight spots.
What are Common Uses for Concrete Curbing Machines?
Concrete curb machines from Power Curbers are used to quickly complete a huge variety of paving jobs, such as:
Subdivisions
Parking lots
Highway barriers
Sidewalks
Irrigation ditches
And more
Contact Us Today!
Power Curbers is proud to offer a versatile range of curb machines that are suitable for any type of project.
We have associates and dealers all over the world ready to assist you with your project.
Request A Quote