It didn't take Sam Craghead long in the slipform industry to realize that the first curb machine he owned wasn't good for his business. Of that non-Power Curber machine, Craghead says, "We didn't like it from the moment we purchased it. It was hard to load on a transport – big and clumsy – and had mechanical issues."
In 1994, his company, Craghead Building Company of Riverton, UT, made the switch to Power Curbers and hasn't looked back since. For over 20 years, the Craghead team has been using a variety of Power Curbers machines – from the original 5700 to the 5700-B, 5700-Super-B, and even a used 8700 they bought to dip their toes into barrier and v-ditch work.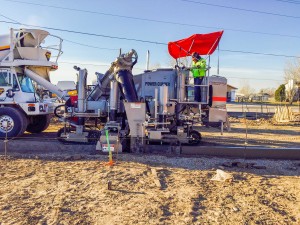 "We had watched a Power Curber 5700 owned by another contractor and liked what we saw," he said. "The ease in transporting, the ease in operation, and the quality of curb. After using the 5700, we were hooked."
Craghead upgraded to the 5700-B in 1997 and ran two of them for years before upgrading to the 5700-Super-B. "The Super-B was a great machine for us and we put a lot of hours on it with little downtime or breakdowns. We took real good care of it with regular service and it's still running strong to this day."
Craghead added the 5700-C to their fleet this year, and has plenty of work lined up for it.
"My favorite part of the machine is its versatility and ease of operation. You can do a parking lot with tight radius one day, then with a quick mold change you can switch to city or state work the next day. Also, it doesn't take much time to teach a new operator how to use or load the machine," said Craghead.
"We have done plenty of unique and interesting jobs – 54" barrier wall, sidewalks, and more. We have modified plenty of molds for many different applications. Our biggest day in production was 4,500 linear feet of curb with trucks every 10 minutes. It was a must-complete one-day situation for a paving company who needed to pave before a winter storm," Craghead recalls.
"The most interesting job we completed was a v-ditch job with the 8700 where we extended 9 feet out from the machine and 4 feet down into the trench and slipped v-ditch off the side of the road. It went off without a hitch."
In addition to the reliability of the machines, Craghead values his relationship with the Power Curbers factory as well.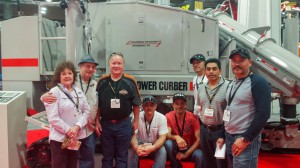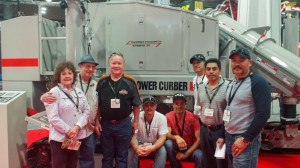 "My experience with the Power Curbers family has been really great in the personal touch with me as a client. The down-home approach to our business needs and the support we receive from technical support has been fantastic. From the President down through sales and even the assembly lines – everyone has been really friendly and helpful."
"It's nice to have everyone know me by my name – it's been a real asset in building this 20-year relationship."
Being a long-time member of the Power Curber family has paid off for Craghead's business.
"Having a Power Curber has saved me time and money every year we have been using them. We have a tendency to over-book work every year and put ourselves in high-profile jobs. The speed and versatility of the Power Curber has kept me out of trouble on many occasions, Craghead said. "We have a 100% record of completing jobs on time."
Click the pictures for a larger view