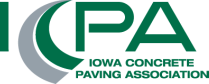 Congratulations to Power Pavers customers Streb Construction Co., Inc. and Metro Pavers, Inc. on being honored by the Iowa Concrete Paving Association (ICPA) at its 51st Annual Concrete Paving Workshop.
Streb Construction received special recognition for their work on Taxiway Echo at the Cedar Rapids airport.
Metro Pavers won recognition for their work in the Arlington Ridge subdivision in North Liberty, road paving in Cedar County (in the municipal overlays category), road improvements in Iowa City, and for parking lot work in Cedar Rapids.
The ICPA and Iowa DOT judge paving projects on several criteria, including workmanship, ride and smoothness, quality control, and complexity.