You wouldn't think a commercial fisherman would know much about slipforming, unless you've met Greg Brock.
"I fished in the Bering Sea for seven seasons up in Alaska," Greg says. "In my seasons off, I would work for an old concrete contractor that taught me a lot. Becoming a concrete contractor was pretty easy for me. Coming from that background of fishing the Bering Sea, I was pretty driven to work."
Brock quickly discovered that the rewards of concrete work were, for lack of a better word, concrete.
"It's a little more rewarding than catching fish. You could actually see the things you build," he says.
Brock began attending the World of Concrete and became fascinated by curb machines. Seeing the value the equipment could add to his business, Greg knew someday he wanted to own his own machine.
"You don't just get there overnight; you have to work to get yourself into a position where you're successful. We had great clients and we did quality work, we just had to have a machine to remain competitive on the bigger jobs and get a bigger share of the market."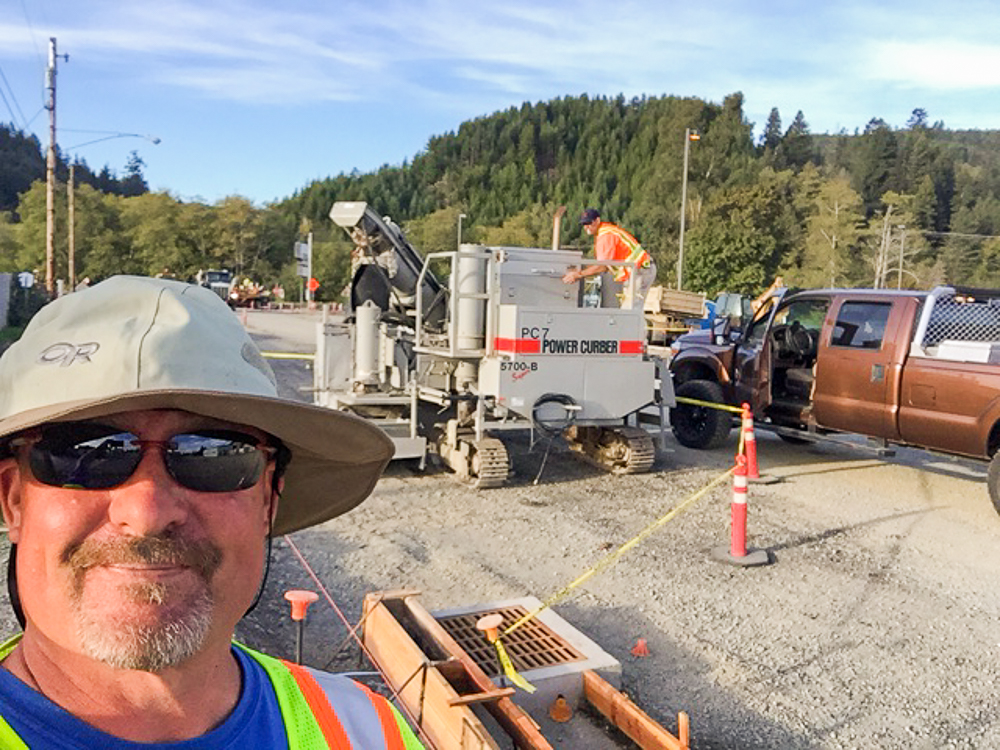 Greg recently bought a used 2006 5700-Super-B from a retiring contractor on the east coast. The machine arrived during a pre-construction meeting, where several large roadbuilding companies were in attendance. As proud of his new purchase as Greg was, there was only one problem.
"I didn't know how to fire this thing up to unload it. And now I've got everybody in town that I work for sitting here watching me," he recalls. "So I called Power Curbers. It was after hours but someone from Tech Support answered and he walked me through the process and it started right up."
Once Greg had his machine unloaded, he realized he would need factory training to be able to make the most of the capabilities of the Super-B on the job.
"Before the training, I just honestly didn't know how I could learn and retain that amount of knowledge in just a week. It seemed like a lot, it just seemed overwhelming."
Power Curbers' Regional Service Manager Terry Duncan traveled to Oregon to train Greg and the Brock Construction crew.
"Terry worked with my crew to learn the big picture and the little nuances – stringline, the way the machine is set up, different ways you can put the sensors. And instantly, I was very confident. My worries were gone," says Greg.
"By the second day, we were pouring and it was a great looking product. And I had the DOT inspector smiling and taking pictures because he was happy."
Even Greg's ready-mix provider was impressed.
"He hated slipform jobs. They were the most stressful days for him with screaming and yelling and problems with other machines," says Greg. "And then with our machine, he said 'It was the fastest process, the smoothest process, with everybody feeling good about the operation and the product.' And he lowered our price because of that."
"My supplier listened to Terry and they worked on the mix design for about 30 minutes on the tailgate of a pickup. And when we got the product, it was a good mix, just the way we wanted it."
After a week of training, Greg couldn't believe how much they had learned from Terry's instruction. "I am truly humbled by it. I am just amazed at the capability of the machine, and there is definitely an art to it. I'm so appreciative of what Terry educated me on. And it wasn't just me – it was my ready-mix provider, it was key people on my crew, my DOT inspector that was on the job, the general contractor – I mean, it was impressive to see. And now everybody in my region is excited about this Power Curber and what it means for future jobs. Getting the technical training is one of the smartest things I have ever done."
"In your life you meet a certain amount of people who inspire you to have a great work ethic, and Terry is right there in the top 5 people who have inspired me. I have notable people in the past that I've admired and who make me wake up every morning and work late at night to provide a good life for my employees and my own family, and give service to the community where I grew up. And his work ethic and the way Terry is, he is right up there in my top 5."
About his Super-B, Greg says, "It's bringing a lot of attention. It's just a better product, a more uniform product, and you just can't match the production."
Greg couldn't be happier with his Power Curbers experience. "I definitely have a lot of confidence. It's been wonderful all the way across the board – the whole Power Curbers family. From the guys I've met at World of Concrete, to David and James in the molds department to Lisa in parts – everybody has been so helpful. I am beaming with confidence right now."
"This machine is going to make us some money this year," says Greg. "It's going to take my company to another level."