PS-2700
When dowel baskets don't allow you to place concrete directly in front of your slipform paver, the PS-2700 is the ideal placer/spreader for your job. This unique two-track design is equipped with a belt placer that runs through the tracks delivering concrete directly to the spread auger. The PS-2700's hydraulic strike-off allows the operator to control the amount of concrete entering the paver that follows.
Built on the tractor unit of the SF-3000, the PS-2700 has a simple, clean design that operators favor. Our customers love the machine's ability to place and spread with the productivity of a larger machine, yet with the belt design, the machine is able to transport with only one lowboy trailer. With hydraulic loading legs standard, the machine transports without disassembly and without use of a crane.
The PS-2700 can place concrete at widths of up to 32" (9.75) and depths of 14" (35.5cm). Optional features include auto-reverse steering, one-speed track motors, and polyurethane tracks.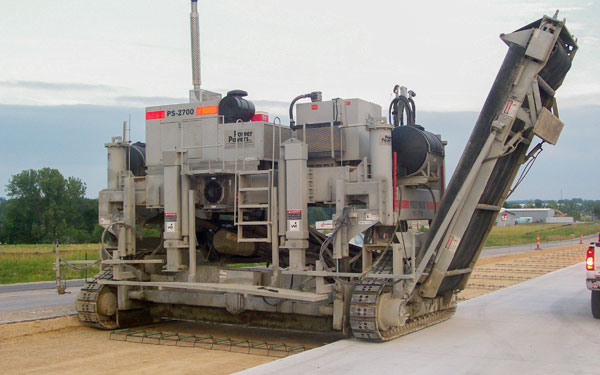 ---
PS-3000
When you're dealing with large amounts of concrete on an airport pour, the PS-3000 is the placer/spreader to handle your work. The key to this high production, two-track placer/spreader is its' high volume 60" (152cm) wide conveyor belt. With a belt speed of 414 fpm (126mpm) the PS-3000 delivers large amounts of concrete to the slipform paver quickly. Further increasing its' production is its' hinged belt which folds in less than seven seconds, allowing for quick replacement of the concrete trucks. To aid in paving at runway depths, the belt is mounted on the front of the machine, allowing it to discharge the concrete from a high elevation.
Designed with jobsite flexibility in mind, the steering controls can be mounted on either the left or right-hand side of the machine. The PS-3000 is also equipped with 42" (106cm) hydraulically lifting legs allowing for a lowboy trailer to back beneath the machine for loading.
The PS-3000 allows for optional auto-reverse steering, one-speed track motors, and polyurethane pads.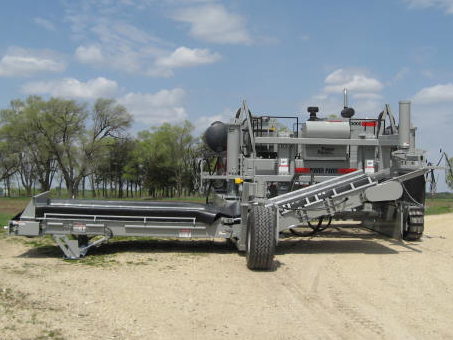 Contact Us Today!
Power Curbers is proud to offer a versatile range of placing and spreading machines that are suitable for any type of project.
We have associates and dealers all over the world ready to assist you with your project.
Request A Quote