5700-C Curb & Gutter Machine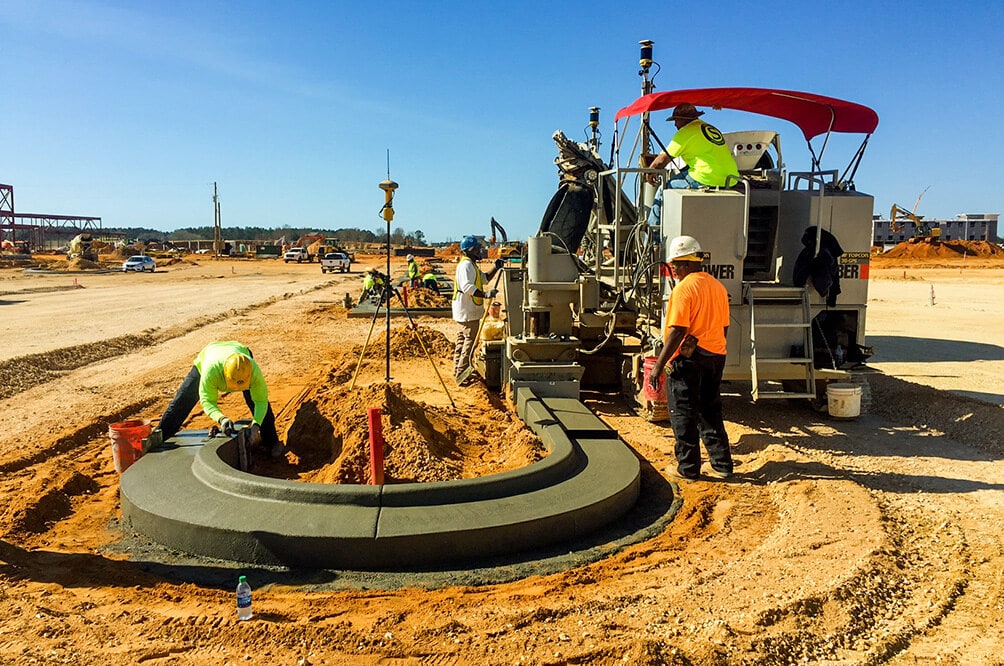 Overview:
5700-C Curb & Gutter Machine
Manufactured from 2007 through 2019, the 5700-C was an innovative addition to the market. Including new controls technologies, the 5700-C was the first 5700 generation to steer with all three tracks, pour with 3D/stringless controls, slip left- or right-handed, and with the MAX package introduced in 2009, pour the largest applications yet.
Used versions of the 5700-C machine may still be available. CHECK HERE to see all available pre-owned machines.
Download Brochure Download Options Brochure
Request Quote or Info
Features
Compact design
The 5700-C's compact size allows operators to get in and out of tight spots like parking lot corners, island, and cul-de-sacs. The machine transports at legal width (8' 6" / 2.59 m) and does not require a low-boy trailer.
Front track steering
The 5700-C keeps things simple in turning a tight radius by steering the front track only, eliminating the complication of steering all three tracks together. However, all-crawler steering can be helpful in other applications and is available as an option.
Auger conveyor
The direct drive, high torque auger conveyor moves large volumes of concrete faster and can hold a cubic yard (0.76 m3) of concrete, beneficial in radius and cul-de-sac work. The auger also helps keep your concrete mixed while pouring and keeps the machine cleaner. It moves the concrete faster and will convey concrete regardless of the incline angle of the conveyor. The charge hopper can be positioned in front of the machine, allowing a concrete truck to run in front of the machine and enabling you to pour in a single lane of traffic.
Hydraulic adjustable offset
The mold mount on the 5700-C can move hydraulically, giving you the ability to raise, lower, and side-shift your mold quickly and easily on the job. With 24" (610 mm) of horizontal movement and 16" (406 mm) of vertical shift, the mold can be lowered into a trench for rehab curb or for pouring adjacent to existing pavement. The offset also gives you greater versatility when setting up on jobsites that have obstructions like catch basins, manhole covers, and uneven subgrade.
Trimmer
The 42" (1.07 m) wide carbide-tooth trimmer handles the toughest of subgrade, minimizing your dependence on the grading contractor. Ideally, you wouldn't need to trim more than 1-2" (25-50 mm) of subgrade, but the trimmer is capable of trimming up at 6" (150 mm) in extreme situations.
The trimmer can also be hydraulically side-shifted 80" (2.03 m) giving you the ability to trim for a 5' (1.5 m) radius or to move the trimmer under the machine and out of the way when not in use. The trimmer also has 16" (406 mm) of vertical adjustment, allowing you to lift it over obstacles on the job.
Smart Amp machine controls
The SmartAmp (TM) control system offers the operator more accuracy and greater feel when setting sensitivity and can perform self-diagnostics. The system will automatically shut off the sensors if they leave the stringline and has an easy-to-read digital display.
Options
Dual side pouring
The 5700-C can be converted from the standard left-side pouring position to be able to pour on the right side. This can be helpful on a highway project if the job requires you to pour with the traffic. Changeover from left to right (or back) takes about 3 – 4 hours.
Barrier mold lift
The hydraulic barrier mold lift allows you to raise the mold up and off a steel cage. With 24" (610 mm) of vertical adjustment in the lift and 36" (914 mm) of vertical post extension in the 5700-C, you can clear tall rebar cages and quickly move the machine off the line to move to a different part of the job or to wash up for the day.
Network machine controls
The fully networked digital control option on the 5700-C gives you the added benefits of an advanced graphic display and auto-slope control for transitioning from in-flow to out-flow. The networked controller is also required for pouring with a stringless machine control system.
Quick Connect mold mounting
The Quick Connect mold mount allows you to change molds in a matter of minutes. Four hydraulically activated hooks release one mold and grab the next with little manual work. For contractors changing molds often on jobsites or going from one application to another in the same day, the Quick Connect makes mold changes quick and easy. The QC also automatically aligns the mold and locks it securely in place.
Hydraulic mold offset lock
If you're using the hydraulically adjustable offset to position your mold for rehab work or to avoid obstructions like catch basins, the offset lock enables you to lock the offset in place. Firmly locking the mold in place eliminates play in the mold, which can affect the finished product.
All-crawler steering
All-crawler steering on the 5700-C can be beneficial when pouring large barrier wall or wall adjacent to an existing structure. It is also required for pouring with a stringless machine control system.
Parapet sensor mount
The parapet sensor mount kit is useful when pouring side parapet on bridges. It includes the parts needed to move the sensors from the left side of the machine to underneath the machine, for conditions where a standard stringline setup isn't feasible, such as along the side of a bridge.
Polyurethane track pads
Poly pads are especially useful in rehab work or when the job requires that the machine run on top of existing pavement.
MAX package
The 5700-C-MAX offers upgrades to the capabilities of the standard 5700-C, including larger crawlers, all-crawler steering, and a secondary mounting location for the right rear post. The MAX Package also includes low-speed crawler torque hubs and three extra vibrator circuits, for a total of nine. The 5700-C-MAX can be used to pour large barrier up to 8' (2.5 m) high, paving up to 12' (3.65 m) wide, and other large profile applications.
Post-hole digger
The post-hole digger attachment for the 5700-C can be used in the installation of cable barrier with "no-mow" concrete strips.
Stringless Machine Controls
5700-C can be equipped with Topcon Millimeter GPS or Leica stringless controls, which eliminates the need to set stringline and saves money and time over the long term.
Applications
Curb & gutter
The 5700-C can handle any curb application with ease. Stand-up curb, also known as header curb or ribbon curb, is common for parking lot islands. Curb & gutter is often used in residential jobs, such as subdivisions. Mold options, such as blockouts and driveway knives, can be added to make your curb jobs even easier.
Tight radius
With the 5700-C, you can pour a radius as tight as 2' (610 mm), making it ideal for parking lot islands. You can eliminate days of hand labor in large retail parking lots by learning to pour even the narrowest of islands with your machine.
Sidewalk
The 5700-C can pour sidewalk or monolithic sidewalk with curb up to 7' (2.1 m) wide in the offset position. By equipping the machine with optional trimmer extensions, you can trim the width needed to clear the way for a sidewalk pour. The adjustable offset allows you to pour sidewalk behind existing curb or over planter strips. Optional detachable side plates allow for pouring sidewalk adjacent to existing curb.
Barrier/parapet/variable barrier
Variable barrier molds can have up to 24" (610 mm) of variability to help on barrier jobs where the area between lanes is not even on both sides.
Cable barrier / no-mow strips
On some highways, cable barrier is used as an alternative to concrete barrier wall. In these situations, the 5700-C can be used to pour a "no-mow" strip to reduce vegetation maintenance under cable-style barriers. Before paving the no-mow strip, the optional post-hole digger attachment allows you to quickly and accurately bore holes for cable barrier anchor posts. Then, the concrete strip can be poured over the holes and the post sleeves inserted into the wet concrete.
Slot drain
Slotted drains can be used to help drain water from roadways. In this unique application, an inflated polymer-based tube is fed into the front of a slot drain mold, custom-built with a slot from the gutter pan to the cavity created by the tube. The concrete is slipformed around the tube and allowed to cure. The tube is then deflated and pulled from the concrete, leaving a hidden drainage channel.
Center pour
The 5700-C can be used as a center-pour paver for golf cart or bicycle path paving. Using inserts, the right rear crawler post is extended to allow a paving mold to be installed under the machine to pour widths up to 10' (3 m). Hydraulically adjustable side plates allow the paving depth to vary up to 12" (305 mm) thick.
Ditches
Concrete-lined ditches can be used for water control and drainage. V-ditches and U-ditches can be poured with the 5700-C, saving time and labor. Because the trimmer cannot be used in most ditch applications, preparation of the grade and profile in front of the machine is critical for good results and to avoid wasted concrete. The 5700-C can pour ditches up to 7' (2.2 m) wide and 2' (610 mm" deep in the offset position.
Canals
The size and versatility of the 5700-C makes large multi-pass canal projects possible. Massive molds and long conveyors can be specifically designed to meet the requirements of even the most complex canal projects.
Stadiums
The 5700 series of machines have been used to pour concrete stadium risers, including stadiums used for the 1996 Atlanta Olympics. Typically, custom molds encompass two risers in one pass. Beginning at the bottom of the stadium, the risers are poured and the machine works its way up, running on the risers poured the previous day. This method has been used to pour risers for baseball, football, and soccer stadiums around the world.
Agriculture
From livestock feed troughs to poultry house foundations, the 5700-C can be used on a variety of agricultural applications. Flush lanes in cattle barns make the entire operation more efficient.
Tunnels
Tunnel jobs offer the perfect opportunity to use a 5700-C, such as for rail beds, walls, and walkways. Unique profiles such as utility channels can be poured along the walls. Tunnel molds often need to be built to be adjustable in height and width to handle variances in the tunnel structure.
High-speed rail
The 5700-C can be used in rail projects for slipforming utility channels for the installation of electrical lines and other utilities.
Dams
The 5700-C can be used in roller-compacted concrete (RCC) dam construction. The sides of each layer of the dam are slipformed with the 5700-C, and then the RCC is installed in between. As each layer cures, the machine is moved on top to pour the next layer.
Specifications
Slipform Paving
Curb/Sidewalk Width: Maximum 7' (2 m) in the offset position or 10' (3 m) in the center pour position.
Option: Maximum 8' (2.5 m) wide offset or 12' (3.65 m) center pour with MAX Package.
Barrier/Parapet Height: Maximum 5' (1.5) tall
Option: Maximum 8' (2.5 m) tall with MAX Package
Mold: One, up to 32" (813 mm) wide, with quick release interchangeable hopper, is standard
---
Engine
Type: Cummins QSB4.5-130C diesel 4-cylinder/4-stroke, turbo charged, Tier 4f emissions compliant. Optional Tier 4i or Tier III emissions compliant engines available where regulations allow.
Power: 130 HP (97 kW) @ 2400 RPM
---
Service Capacities
Fuel Tank: 66 gallons (250 liters)
Hydraulic Tank: 50 gallons (189 liters)
---
Controls
SmartAmpsTM: Digital amplifiers provide electronic over hydraulic control for grade, forward and reverse steering, and slope.
Features: Adjustment for sensitivity and deadband offering the operator accuracy and feel without complexity; self diagnostics; and automatic shut-off for sensors that leave the stringline.
Convenience and Safety: Synchronized on/off for vibrators and crawlers. Five emergency-stop switches and a horn for operator and chute man.
Light Kit: Four post-mounted LED work lights
Option: Networked digital control with autoslope, cruise control, 3D readiness, advanced setup flexibility, and large graphic display.
---
Trimmer
Cutting Width: 42" (1070 mm), up to 78" (1980 mm) with optional extensions. Carbide teeth.
Cutting Head Diameter: 21" (530 mm)
Maximum Trim Depth: 6" (150 mm)
Lateral Shift: 80" (2030 mm) hydraulically
Vertical Shift: 25" (635 mm) – 16" (406 mm) hydraulically, 9" (228 mm) mechanically
Options: Trimmer Extensions in 6" (152 mm), 12" (305 mm), and 24" (610 mm) widths.
---
Auger Conveyor
Drive: Direct drive with high-torque motor; variable speed and reversible.
Volume: 1 yd3 (0.75 m3) capacity and 0-2 yd3/min (0-1.5 m3/min) rate of movement
Positioning: Pivots, hydraulically tilts and slides 24" (610 mm). Discharge chute swivels, providing additional flexibility in setup.
Size: 12' (3.7 m) long and 14" (356 mm) diameter
Features: Heavy duty cast flighting with lid for full enclosure
---
Vibration
Vibrator Circuits: Six hydraulic circuits with variable speed and independent control
Vibrators: Two, with adjustable mounts
Options: Extra vibrator(s) with hanger and extra vibrator circuits (three)
---
Hydraulic Adjustable Offset
Lateral Shift: 24" (610 mm) hydraulically with positive mechanical locking
Vertical Shift: 25" (635 mm) – 16" (406 mm) hydraulically, 9" (228 mm) mechanically
Option: Hydraulic Mold Offset Lock
---
Water System
Washer: 2,000 psi (138 bar or 13.8 Mpa) high-pressure system with trigger control and adjustable spray nozzle
Tank: Stainless steel with 132 gallons (500 liters) capacity
Options: Low pressure system, Mold misting kit, Charge hopper water kit, Auxiliary water tank (92 gal / 348 liters)
---
Crawlers & Elevation Posts
Type: Three hydraulically powered crawler tracks with planetary gear reduction
Tracks: 12" (305 mm) wide steel pads
Speed: Travel at 0-110'/min (33.5 m/min), 0-70'/min (21 m/min) with MAX Package. Pouring at 0-50'/min (15 m/min), 0-35'/min (10.5 m/min) with MAX Package.
Minimum Turning Radius: Left at 2' (610 mm), right at 20' (6.1 m).
Post Extension: 36" (914 mm) hydraulic cylinders
Straddle Leg: 22" (559 cm) of hydraulic side shift adjustment
Options: Polyurethane track pads and all-crawler steering (requires optional networked digital controls)
---
Optional Equipment
Quick Connect Mold Mount: Hydraulically operated
Hydraulic Front Grade Sensor Arm: In operator controlled and automatic versions
Dual Side Pouring: Allows you to pour from either the left or right side
Barrier Mold Lift: Hydraulically operated, with 24" (610 mm) lift, independent of the machine's post extension
Weight Pod: 1,980 lbs. (900 kg)
Post Hole Digger: 12" (305 mm) auger diameter. Maximum hole depth is 34" (864 mm). Requires optional Quick Connect Mold Mount.
Center Pour Paving Kit: Available in several widths and configurations
Stringline Accessories: Stakes, rods, clamps, string, radius materials, winches, etc., available individually or in kits
---
Net Weight
Machine: 24,700 lbs (11,200 kg). Weight is approximate and will vary depending on optional accessories and size of mold.
Full Water Tank: Add 1,100 lbs (500 kg)
Full Fuel Tank: Add 480 lbs (215 kg)
Quick Connect: Add 750 lbs (340 kg)
Dual Side Pouring: Add 600 lbs (270 kg)
MAX Package: Add 2,500 lbs (1,135 kg)
---
Transport Dimensions
Length: 20' (6.1 m). Add 8" (203 mm) for MAX Package.
Width: 8' 6" (2.6 m)
Height: 10'7" (3.2 m). 8'1" (2.5 m) without exhaust stack. Add 5" (127 mm) for MAX Package.
---