FP-3000 Form Paver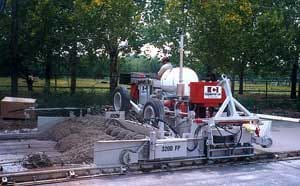 Overview:
The FP-3000 is our heavy duty form paver, paving widths up to 29ft. These models produce structurally strong pavement & are easy to transport behind trucks. See all the information about the FP-3000 here!
Features
Diesel Engine
Gross horsepower @ 2,200 rpm 130.6 kw/175 hp Cummins 6BT5.9 four-stroke cycle, turbocharged-after-cooled, 6-cylinder diesel. 12 volt electric starting with 14-volt 100-amp alternator.
Propulsion System
Hydraulic winch variable speeds of up to 5 mpm/16 fpm. Winch assemblies have hydraulic throw-out clutches. Two non-powered flanged, polyurethane coated back-up wheels are standard.
Mainframe
Rigid steel plate box type construction. Machine widens in 15.2cm/6 in. increments.
Hydraulic Power Supply
One variable volume pressure compensated pump for vibrators. Two vain type open loop pumps coupled to high torque motors for augers. One variable volume pressure compensated pump for all other machine functions. All speed controlled remain at set flow rate regardless of working load changes.
Steering
Equipped with fully proportional hydraulic sensor system for automatic steering.
Operator's Console
One-switch paving mode for ease of operation.
Engine controls and monitoring devices at console.
All-around visibility by the operator.
Auger System
40.6CM/16 in. diameter split auger with hard-surfaced flighting.
Right and left hand independently controlled augers provide even spreading of the concrete between the forms.
Hydraulic Strike-Off
Operator controlled hydraulic strike-off for metering concrete flow to the enclosed vibrator and tamper section in front of the profile pan.
Hydraulic Vibrators
Three vibrator manifolds with 12 hydraulic vibrator controls. 10 hydraulic vibrators are standard. Automatic start and stop with machine travel, manual override. 227 lpm/60gpm vibrator pump.
Tamper Bar
Hydraulic powered tamper bar.
Pressure compensated speed control.
Tamper bars are staggered for smoother paving.
The tamper system is quickly adjustable for crown configurations.
The double tamper bar system prevents "crusting" in the vibration chamber.
Profile Pan
1.22m/48 in. profile pan is adjustable to finish flat or peak crown slabs.
Curb Molds
One curb mold supplied to customer specs, 17.8cm/7 in. maximum standard height.
Right or left hand curb molds available.
Paver is capable of slipping integral curbs above form lines.
Transport System
The transport system features a 40.6cm/16 in. ground clearance to allow easy placement of the machine over the high-back forms. The two transport wheels are centered on the machine to balance the load distribution. The towing tongue can be mounted on either end of the machine for greater versatility in job site situations.
Specifications
Operating Dimensions
Standard paving width: 4.26m/14 ft. to 8.84m/29 ft.
Optional paving width: 9.75m/32 ft.
Overall width: Paving width plus 61cm/24 in.
Length: 3.734m/12 ft. 3 in.
Weight: 8,728kg/19,242 lbs. to 11,868kg/26,164 lbs.
---
Transportation Dimensions
Width: 2.59m / 8 ft. 6 in.
Height: 2.74m / 9 ft.
Weight: 8,728kg/19,242 lbs. to 11,868 kg / 26,164 lbs.
---
Service Refill Capacities
Fuel tanks: 95 gal (360 L)
Hydraulic oil: 165 gal (625 L)
Water system: 110 gal (416 L)
---
Optional Equipment
Extension kit to 9.75m/32 ft.

Additional hydraulic vibrators

Four bank vibrator control manifolds

Additional curb molds

Powered back-up wheels

Oscillating screed

High pressure wash-down system with one 208 liter/55 gal. reservoir.

Vandal package with locks

Hydraulic belt finisher
---