Build Your 5700-C
Equipment Guide
Mouse over a number to view more information.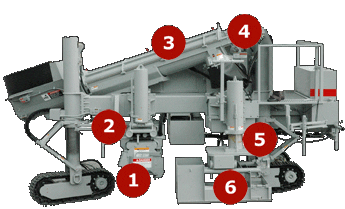 Standard Equipment
Carbide Tooth Trimmer
• Cuts through the hardest subgrade, speeding production
• Long wear
Cast Auger Conveyor: 144″ (3.7m); 24″ (61cm) hydraulic cylinder shift

• Speeds up pours!
• Fully enclosed
• Moves concrete faster and keeps the machine cleaner
• Holds enough concrete to complete a tight radius, without delays caused by repositioning the ready-mix truck
• Constantly mixes concrete. The separation of the mix caused by belt conveyors is eliminated, resulting in a strong, smooth curb
• Eliminates frequent replacement of belt conveyor
• For transport, the auger is repositioned to within the width of the main machine
High Pressure Washer: 2000 psi (138 bar)
With water pressure of 2000 psi and an 132-gallon (500 liters) tank, there is plenty of water and water pressure for clean-up at the end of the day.
Hydraulic Adjustable Offset: 24″ (61cm) lateral shift; 25″ (63.5cm) vertical shift including 16″ (40.6cm) hydraulic lift and 9″ (22.8cm) mechanical lift
Position the mold independently of the machine for set-up versatility important for reconstruction work or reaching past obstructions. Also, work around catch basins while staying on the line, speeding production.
Hydraulic Right Rear Straddle Leg: 22″ (56cm) of side shift
Allows 22″ (56 cm) of side shift for crawler placement and greater stability.
Hydraulic Vibrators: 2
Two hydraulic vibrators consolidate concrete for consistent pouring.
Mold: Up to 32″ (81cm) wide
On-Board Water System: 132 gals (500 liters) stainless steel tank
Proportional Electronic Controls
Quick-Release Hopper
Single-Lane Pour Capability
Concrete truck is directly in front of the machine, resulting in quick, safe pours in single traffic lanes, or tight spots in parking lots
Tracks: 12″ (30cm) wide
Vibrator Circuits: 6
The machine comes equipped with 6 vibrator circuits, allowing you to pour 8-foot (2.4m) golf cart paths, or 5&\#39; (1.5m) barrier wall, without adding vibrator circuits.
Optional Equipment
Quick Connect Mold Mount System
This option allows molds to be changed hydraulically in only a few minutes without heavy hand work. This saves as much as 30 minutes or more per mold change.
Hydraulic Front-Grade Control
Our optional Hydraulic Front-Grade Sensor Control allows the sensor to stay on line in a radius as tight as 7&\#39; (2.1m) without a crew member&\#39;s assistance. Two versions of the kit -• an operator controlled cylinder and a fully automatic cylinder -• are available.The Operator Controlled Front-Grade Sensor Option allows the operator to hydraulically guide the sensor in and out by using a switch.
Sensor Controlled Front Grade Arm
The Fully Automatic Front-Grade Sensor Option uses an additional sensor mounted at the grade sensor that directs the sensor in and out through a radius. This eliminates the need for the machine operator to keep his eye on the stringline while turning radii.
Digital Network Control System
Operator has more control when changing the curb and gutter cross-slope on the fly
• More production!
• Slope Compensation (Patented)
• Crew does not have to manually lower steering sensor jacks or raise stringline height in order to keep the curb from being off from 1 to 2 inches (25 to 50 mm) because of machine movement
• Machine automatically makes the correction for elevation
• Maintains true top-of-curb and back-of-curb reference to the stringline without manual adjustments to the grade and steering sensor jacks during transition, or calculating this amount of change in elevation and alignment, which saves time.
Mold Mist Kit
The Kit eliminates the need for the crew to manually add water to the curb or sidewalk.
Stringline Kit
Instajust Stringline Kit
• 48″ (122cm) stakes, 200 qty.
• Slotted end line rods, 200 qty.
• Instajust clamps, 200 qty.
• 1,000&\#39; (1525m) rolls of string, 5 qty.
(Other Kits Available.)
Urethane Tracks
• 12″ (30cm) urethane tracking
• Cushions machine to prevent marring the surface when running over recently poured concrete, such as stadium risers
Auxiliary Water Tank
93 gals (352 liters).Located beneath the machine.
Charge Hopper Water System
Light Kit
• Light fixture with two 100-watt bulbs, included in the kit, is mounted to the front post for lighting direction of the machine
• A second fixture with two additional bulbs, also included, is mounted to the rear post to light the pour.
• Well-lit views of the work in progress for machine operator and chute man
Dual Side Pouring
MAX Package
Spare Parts Kit
Trimmer Extension: 6 inch (15cm)

Trimmer Extension: 12 inch (30.5cm)

Trimmer Extension: 24 inch (61cm)

Hydraulic Lift (for Barrier Mold)
• Makes slipforming highway barrier or parapet easier.
• Quickly lift barrier/parapet molds off rebar at the end of a day's pour
• Machine clean-up easier
• With 3&\#39; (91 cm) of lift already built into the machine, the Hydraulic Mold Lift gives the machine an extra 2&\#39; (61 cm) of lift for easier maneuverability
• Walls up to 50″ (1.3m) tall
Post Hole Digger Attachment
Saves hand work
• Digs post holes for highway safety cable barrier installations
• Mounted on left rear of machine
• Hydraulics supplied from the aguer conveyor circuit, using the conveyor controls on the machine console
• Auger for post-hole digger operates inside cylinder, moving dirt upward into a hinged chute and catching the material before it hits the ground
• Hinged chute allows the material to be dumped out of the way of the slipform application and eliminates the need for a crew member to move the dirt manually
• Excavated material does not fall back into the hole; thus, the pier hole is left clean for the slipform operation
• Stop rod available for the attachment for consistency of hole depth
• Requires a Quick Connect Mold Mount on machine.
• Augers available at either 12″ or 15″ diameters. Consult factory for other desired hole sizes.
Mold Knife for Driveway Block-Outs
A curb mold accessory used to reduce labor and wasted material at driveway entrances. When engaged, it prevents material from filling the curb portion of the mold. A knife can be included in a mold order.
Hydraulic Offset Lock
Get Started & Build Your Custom 5700-C