5700-C Features
Choice of Control Systems, optional Dual Side Pouring capability, and the MAX Package.
With more versatility than ever, the new machine maintains the Power Curber reputation as the most productive curb and gutter machine on the market.
Standard Single-Lane Pouring Capability allows the concrete truck to be lined up in front of the machine in high-traffic urban areas where space is a preminum.
Optional Dual Side Pouring
Water Capacity increases 50% — 132 gallons.
Fuel Capacity increases 25% — 66 gallons.
Choice of Control Systems
The new electronic system, utilizing Smart Amps™, offers the simplicity of an analog system, but with the features of a digital system. The operator has greater flexibility for sensitivity adjustment. Display screens on the operator's panel will show fault codes if there is a problem with a sensor, cord, or amplifier. Optionally, you have the choice of a digital Network controller with a large graphical display.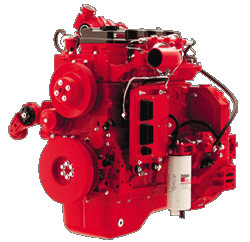 Cummins Engine
Computerized, quiet and fuel efficient. Reverse engine design locates radiator in center of machine, away from concrete in the auger, resulting in less maintenance and better cooling.
Operator's Platform
Raised for better visibility. The engine pulls the heat away from the operator's platform, making the operator more comfortable.
Easy Servicing
The trimmer is easily accessible for maintenance by removing the protective outside plate. This saves 1.5 hours of maintenance time when servicing the torque hub. The re-positioned trimmer height results in quicker set-up. The trimmer is mounted 7 inches (18cm) further to the left, allowing the ability to trim and pour 6-foot (1.8m) sidewalk. Posts do not have to be removed from the machine to replace bushings, saving 3 to 4 hours per post of repair work and eliminating the use of a crane. Pumps and gear boxes are more accessible. Servo controls are within easy reach.
The MAX Package
Take command of your work with the new MAX Package. This option adds more capability to the 5700-C, outfitting it with larger crawlers, all crawler steering, and a special frame with secondary mounting location for a rear post. These and other features allow pouring large barriers up to 8 ft. (2.5m) tall, paving up to 14 ft. (4m) wide, variable barrier with up to 24 inches (610mm) variability, and other large profile applications.
Ask us about a 5700-C-MAX for your big applications.
br>